What the heck is that?
Well, in short, that's whats taken me away from you guys these past few weeks! It really was for an incredibly good cause though so you can't hold it against me. The take home message is that my husband was part of a group of four cyclists who recently completed a 2200Km cycle across the country from Beit Bridge to Cape Town. But when have you ever known me to just give you the take home message without bending your ear first? Am I right? So, I wanted to get a blog post up to give you the low down on this incredible charity ride and the heart behind it. The full story really is goose bump stuff so hang in till the end!
Jono Anderson
The story of this ride essentially starts and ends with one special man, my late father in law, Jonathan Anderson. Jono sadly passed away following a quick deterioration in his health after a dementia and parkinsons diagnosis. Jono did not have an easy life and was plagued, for the better part of it, with mental health struggles. He was diagnosed with Bipolar Mood disorder at a time when it was poorly understood and even more poorly managed. One thing that was said of him at his funeral is that he never said a bad word about anyone. And it was absolutely true. In the few years I knew him I literally never heard him say something nasty or even remotely negative about a single person! I don't even know if that could be said of me for this past week alone! He truly had a heart of gold, was a man of God and loved people. None more so than his two boys who were his absolute pride and joy. In his youth, Jono was a great adventurer. He did the Cape to Rio Yacht race, paddled the entire length of the orange river from its source to the ocean and, most remarkably, he cycled from Zim (Salisbury) to Cape Town as a seventeen year old boy! On his passing, my husband Struan, and his brother, Lyle, decided the best way to honour their dad would be to follow in his steps and take on this ride themselves, in his memory. This was where the Border2Beach Psycle Tour was born.


The original ride in 1969
One night towards the end of 1969 head of the enterprise club at Hilton College, Mr Rob Van Heerden, responded to a knock on his door. In front of him stood Jonathan Anderson, Martin Walker and John Schwikkard, asking if he would accompany them on a ride from Salisbury to Cape Town. Now to most of us this sounds insane. But, to Rob, it sounded like the kind of adventure that was just up his ally!
When the time came, the boys dismantled their bikes (and Rob, his old faithful single speed) in order to travel by train to Salisbury, arriving on December 9th. They wore rugby shorts, t-shirts and takkies and carried nothing but a change of clothes, a sleeping bag, a puncture repair kit and toiletries. Assembling their bikes on the platform attracted the attention of a reporter and the next morning they made front page news! This resulted in a police escort through town as they started their journey. It wasn't all that glamorous though.
They stretched their daily budget of R1.50 by buying a bath at the local hotel for 50c, each taking turns to bath in it and then washing their clothes for the next day. In some towns people gave them a place to sleep, in others they would head to the local police station and sleep in an empty cell, charge office or even on the veranda. After 9 days they arrived in Johannesburg where Rob left the three 17 year old boys to continue the trip to Cape Town on their own. They averaged 10 hours a day in the saddle, spent Christmas eve in a prison cell in Richmond and eventually arrived in Cape Town on schedule after three weeks of riding. They never once needed that puncture repair kit.

Border2Beach Psycle Tour
What started as a small tribute ride grew into something much bigger. Friends Simon Clayton and Gareth Myles put their hands up to join the guys on this gruelling cross country cycle. In an amazing twist of fate, Pete, the son of the late Martin Walker caught wind of the ride and was able to join for the first couple of legs. That meant that three sons of the original riders were able to start this adventure together. Martin Walker tragically passed away while on a charity microlight flight around the world when he crashed in South America and the first leg of the ride also happened to co-incide with the 15th anniversary of his death. To say it has been an emotional journey for these guys is an understatement!
Struan and Lyle identified an opportunity to use this ride to raise awareness around dementia and raise funds for Alzheimers SA to train caregivers to help families affected by the disease. Every R2500 raised equals one caregiver trained. We set the ambitious target of raising R200K which would mean 80 people in rural areas across the country would be up-skilled, made employable as carers, and able to help countless families suffering under the burden of this cruel disease. Im very chuffed to say the guys are within inches of hitting that target!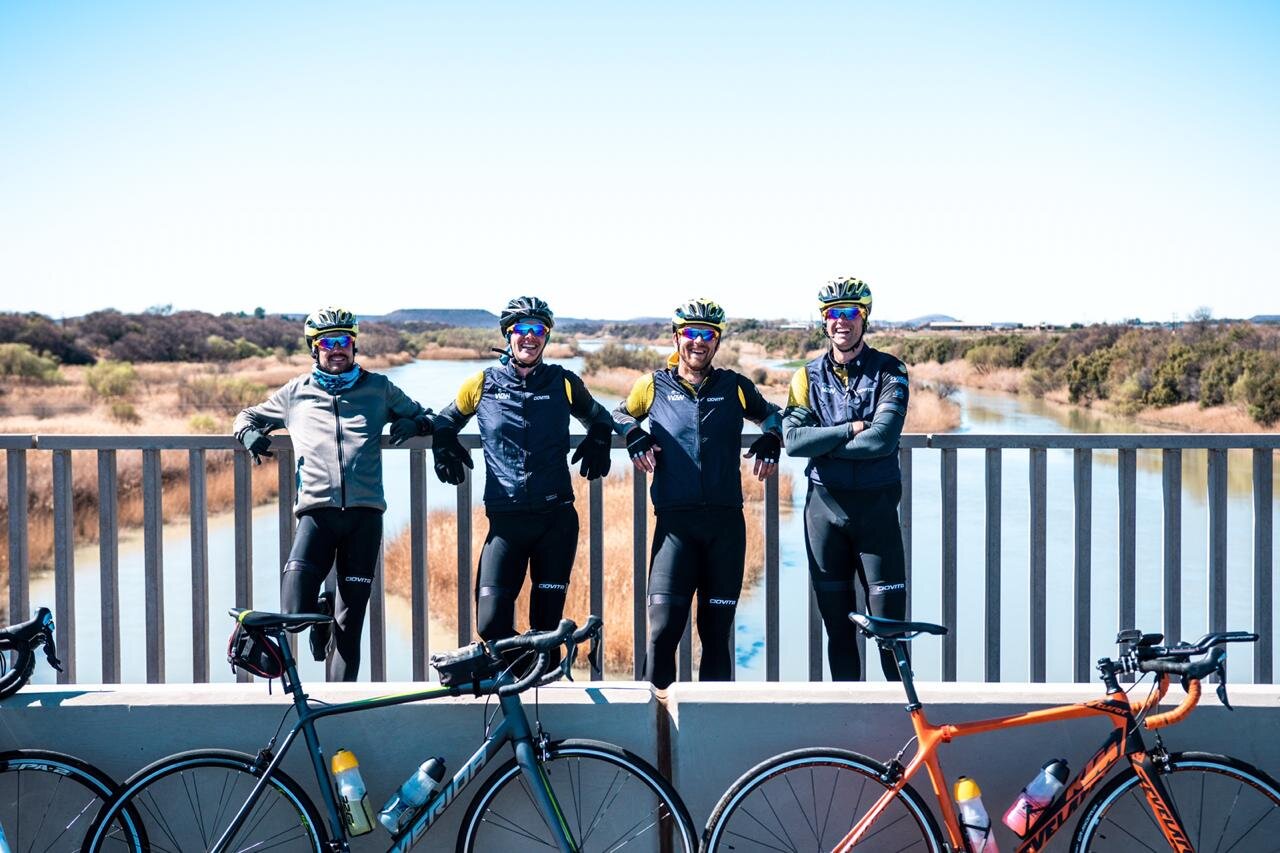 Was it fun single parenting for two weeks while hubby was away? No.
Was it easy putting some of my own goals on hold to carve out time for him to get his training in for a few months building up to the ride? No.
Was it worth it? A million times yes!
I am proud beyond words of this husband of mine and it's so special that our kids will be able to brag about their crazy, adventurous dad in the same way that Struan and Lyle have told the story of Jono with such pride. I can only imagine how big his, already generous, smile is looking down at his sons today.
XXX
Mama

If you would like to contribute to the fundraising efforts, please click through to the back a buddy link below;
Or you could transfer direct to the B2B bank account;
Border2Beach
FNB cheque acc
Acc no: 62814531209
Branch: 250655